---
Passport to ITALY
For a lifelong friend, Atlanta designer JOHN OETGEN creates a home with a distinctly Venetian accent.
"She is an artist, a philanthropist and a woman of great style. I wanted to give her the sense of an Italian apartment in a dusty old palazzo."

— JOHN OETGEN
SOUTHERN HOME
September/October 2017
---
JOHN OETGEN is widely known for elegant interiors that truly captivate with show-stopping art and his signature touch of whimsy. An Atlanta/New York native, Oetgen's residential projects include homes in New York, California, Mexico, Florida, Colorado, New Mexico, St. Barths, Paris, Washington, D.C. and the greater southeast. His work has been featured in many national and regional publications and books, including ATLANTA, and ATLANTA HOMES & LIFESTYLES, ELLE DÉCOR, HOUSE & GARDEN, HOUSE BEAUTIFUL, INTERIOR DESIGN, SOUTHERN ACCENTS, SOUTHERN HOME, VERANDA and W. Since founding Oetgen Design in 1977, John has given his time and talents to a number of charities and organizations including AID Atlanta, Atlanta Ballet, Atlanta Botanical Garden, Atlanta History Center, Atlanta Symphony, High Museum of Art, The New York Botanical Garden and SCAD.
---
---
---
AN ARTFUL MIX…
In the hands of designer JOHN OETGEN, a new Atlanta townhouse takes on a European sensibility, transcending both time and place.
VERANDA
February 2017
---
---
MODERN MAGIC
Inside an unassuming 1970's Buckhead home, JOHN OETGEN and JOHN LINEWEAVER make themselves at home among a superlative collection of 20th century decorative arts.
"Everything we buy wasn't because of who did it. I don't care about collecting an autograph. These are the things that make me smile when I see them..."

— JOHN OETGEN
ATLANTA HOMES & LIFESTYLES
June 2009
---
---
SIMPLY ELEGANT
In a Manhattan pied-a-terre, designer JOHN OETGEN evoked the Cole Porter era, when luxury went hand-in-hand with wit, and the time always seemed to be around midnight.
HOUSE BEAUTIFUL
January 2003
---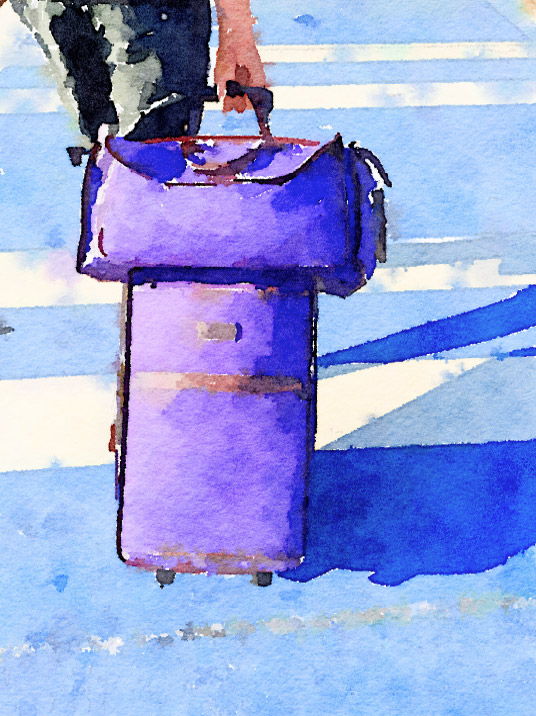 a day in the
LIFE
---
---
Unmistakably SOUTHERN
"The hood is suppose to look like a fabric canopy. It's done in hand-hammered zinc. The pediments and finials are like little temples. I wanted the kitchen to be fun and amusing. The pale chartreuse tile is like olive oil. I've spent so much time in French brasseries. I wanted the kitchen to look like that, with the tile and the iron and the marble, and those great green and blue chairs."

— JOHN OETGEN
House Beautiful
August 2007
---
---
INTO THE WOODS
At his mountain retreat, designer JOHN OETGEN forgoes antlers, logs and taxidermy for things more personal: family heirlooms, contemporary art… and a touch of whimsy.
VERANDA
February 2015
---
---
Designer in Residence
VERANDA
July 2016
---
---
SYMPHONY Showhouse
"The room was so large that I wanted the versatility of a large round table in the middle to use for parties, dining, entertaining, art projects books, flowers, etc... An Alexander Calder I bought in Paris several years ago seemed to call for a natural surrounding, like a garden room: so many of Calder's large monument pieces were designed for gardens or light, air-filled spaces in private places and museums."

— JOHN OETGEN
ATLANTA HOMES & LIFESTYLES
September 2012
---
---
---
A Masterful MIX
Adept at contemporary as well as traditional design, JOHN OETGEN is a master at creating open, airy interiors where fine art and furniture stand out against elegant color schemes.
"I'm not one for an overly decorated look that screams a certain style or period... I like beautiful old things, whether they are in a traditional setting or used sparingly in a contemporary way in a modern house."

— JOHN OETGEN
TRADITIONAL HOME
October 2002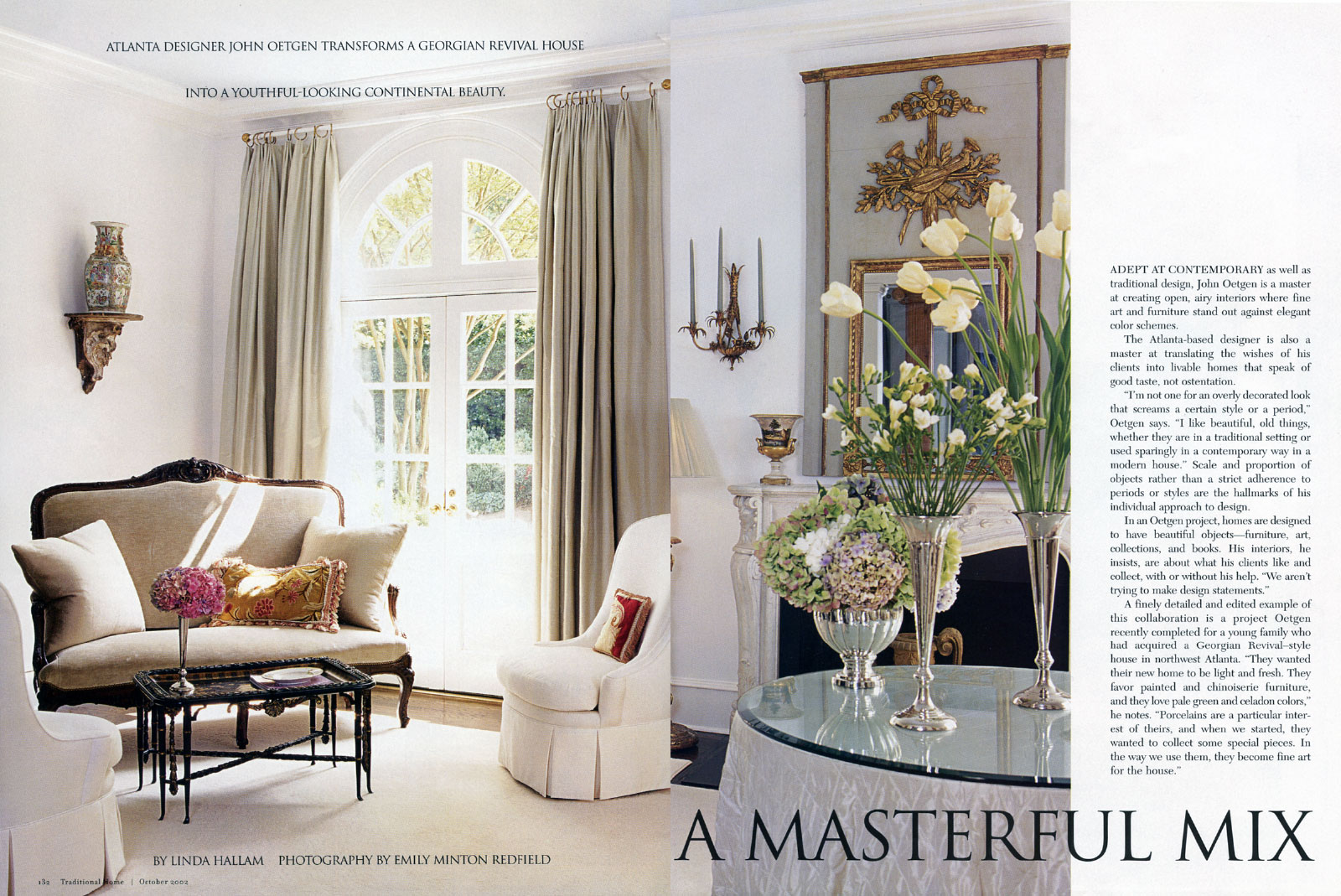 ---
---
---
ART SMART
JOHN OETGEN GIVES A HO-HUM HOUSE A TOUCH OF CLASS — AND GLASS
HOUSE BEAUTIFUL
March 2003
---
CONTACT
OFFICE
2300 PEACHTREE ROAD
SUITE B-208
ATLANTA, GA 30309
T: 404.352.1112
F: 404.352.0505
E: studio@oetgendesign.com
FOLLOW
---
©2023 OETGEN DESIGN INCORPORATED. ALL RIGHTS RESERVED.